1. name: Nikki
2. age: 14
3. are you a cheerleader?: I used to cheer, but I've been taking some time off to catch up on school and friends. (Cheer was such a big part of my life, my only free time was sunday morning, and I had to go to chruch. So I never got to catch up fully on school an dfriends.)
4. how long have you been cheerleading?: 9 years
5. what is you favorite stunt/tumble pass?: Stunt - Twist up catch to splits double sponge up to stretch to bow-and-arrow dip down and turn to scorpion pull to scale double down Tumbling - Wow that's hard. Ummmm.... well if it's one that I can do, or could, seeing as how, I haven't tumbled in about a year, then... handspring whip handrspring whip handrspring back. If it's just any favorite tumbling pass then.... round-off double-punch-full to double-punch-front to full and a half to double. ((Tye on Twist and Shout Sr. Coed Open did it last year. And when it says 'to' like double-punch-front to double-punch-full that means he's doing backhandsprings or roundoff backhandsprings..... and just to let you know after the punch front he did the rest of the pass back the way he came. If you want to see it go to www.tribecheer.com and under Facility go to Awesome Videos then the Best Tumbling Pass at NCA 03-04 and he's the last guy. Like the last guy they show tumbling in the video.))
6. what is a trick that you dont have yet, that you would like to have?: Triple toe back to front tuck. (The backtuck and front tuck are connected)
7. where do you cheer for (middle school, high school, collage, all-star) I've done all-star and middle school.
8. what do you cheer for (football, basketball) Middle school we cheered for Football and basketball
9. do you compete? I did.
10. what can you bring to cheer_spirit? I can help people, with questions they have, and I don't look down at others just becasue I cheer. I try and not be the typical cheerleader stereotype.

Here are a few pics of Twist and Shout (Edmond and Norman, Oklahoma) 03-04 Season.



Here is the beginning of our routine. That's the middle of the line.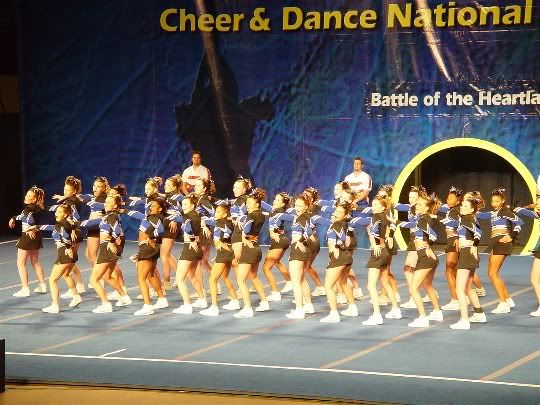 Here's our little dance thing before stunts. It's not our actual dance though.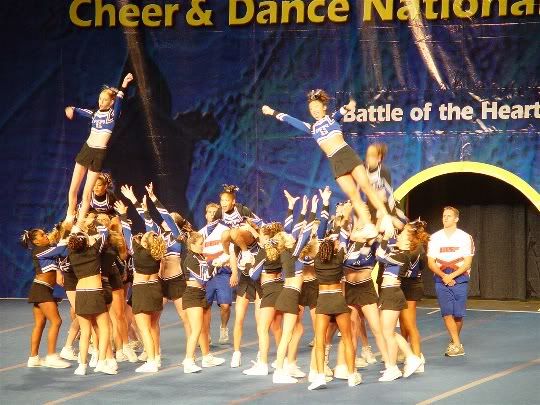 Where forming out pryamid.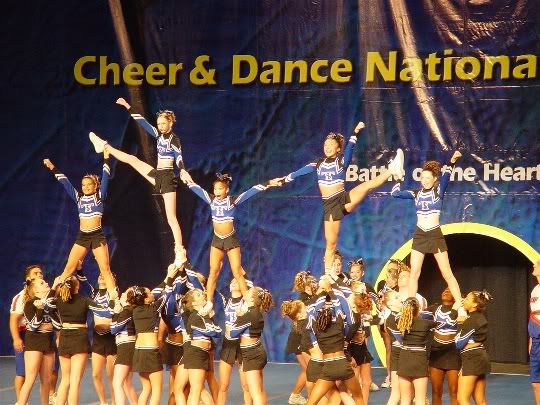 The end of our prymaid.

Well that's all I have from my team right now!

Here's some of the other teams!!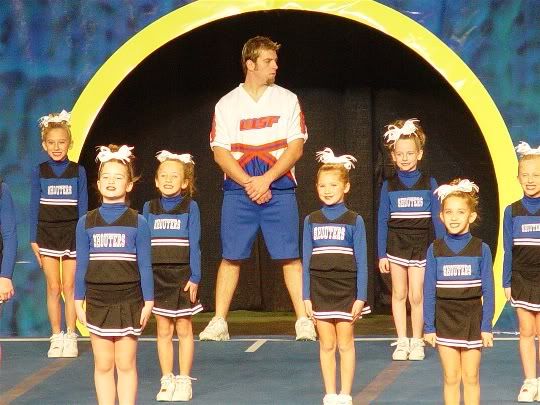 Awww!!!! Edmond Mini's. Not sure if it's Mini A or Mini B?


Mini's stunt. I think it's Mini A....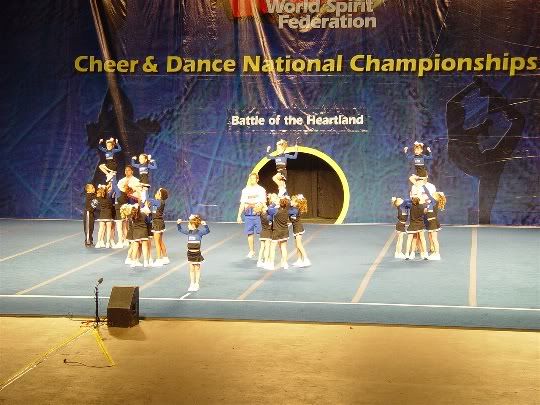 Here's Norman Mini's!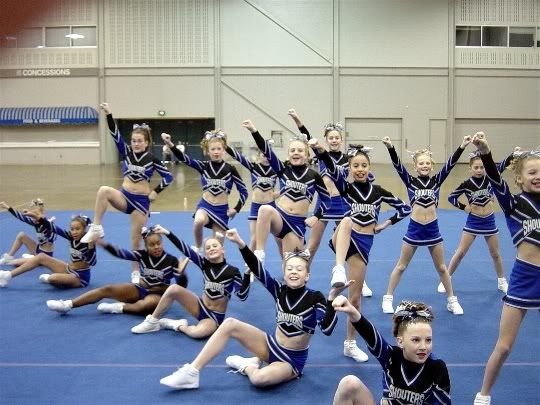 Here's Jr Prep Blue at warm up for Pro Spirit.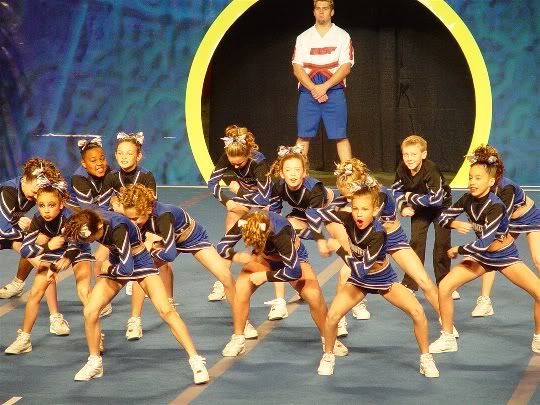 Jr Prep Blue Dance at WSF.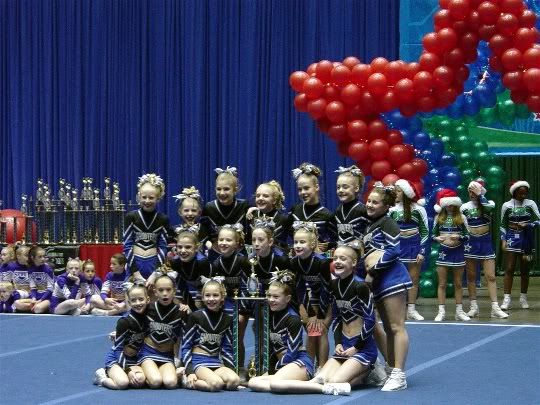 Jr Prep A at Pro Spirit Regionals.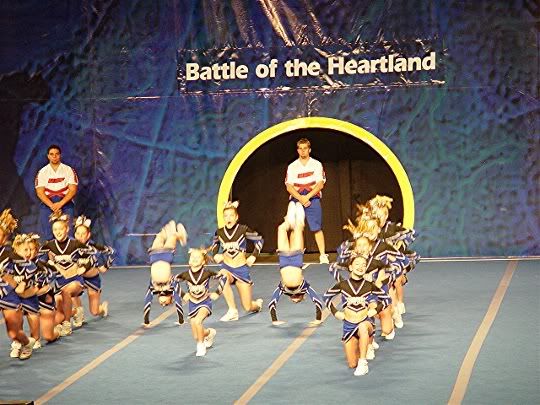 Jr Prep A at WSF Nationals.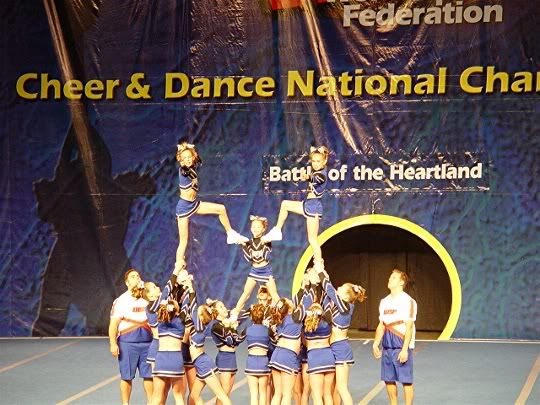 Jr Prep A Prymaid.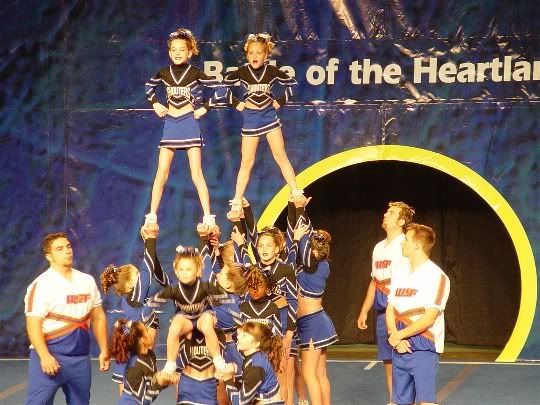 Here's Jr Prep Norman.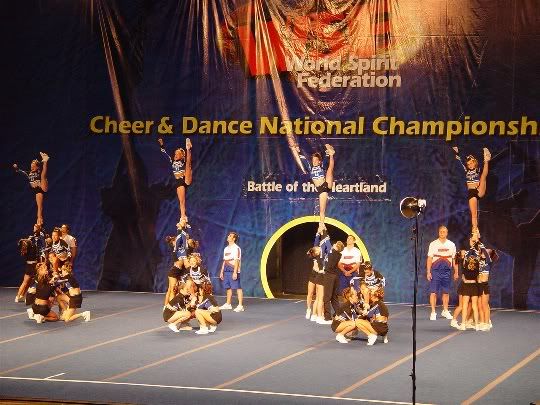 Jr Coed stunts at WSF.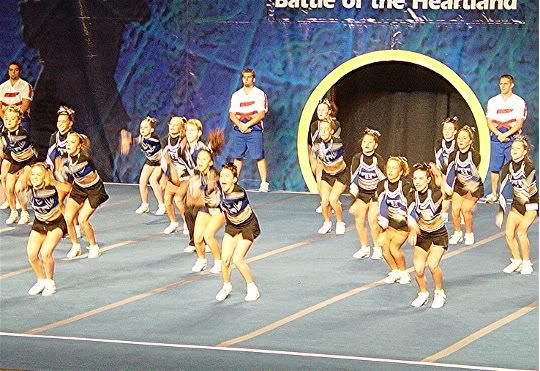 Jr Coed about to do jumps.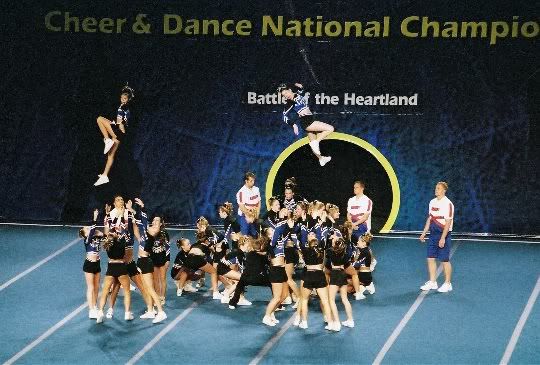 Jr Coed begining of pryamid.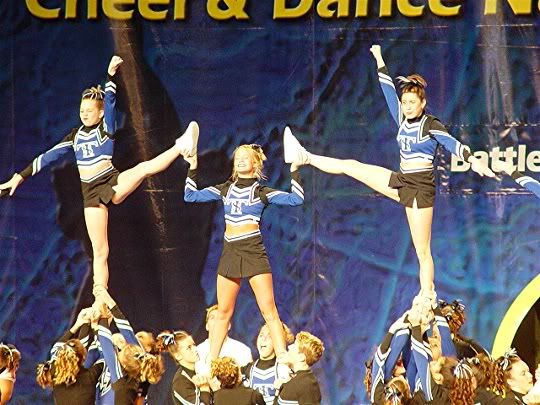 Jr Coed ending of their Pryamid!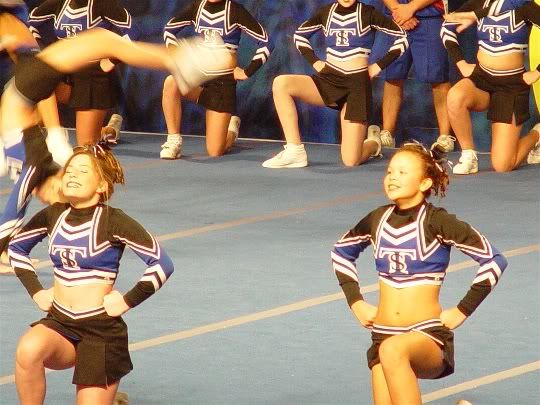 Sr Novice Tumbling at WSF.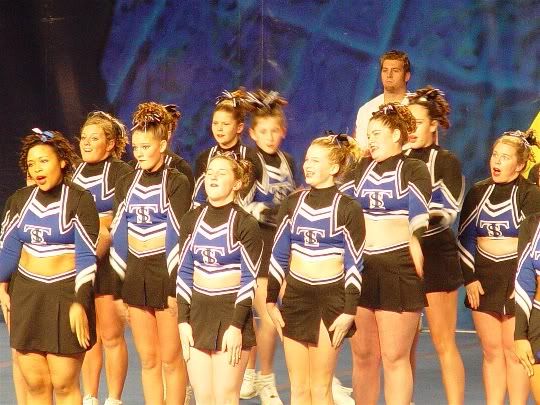 Sr Novice walking to jumps.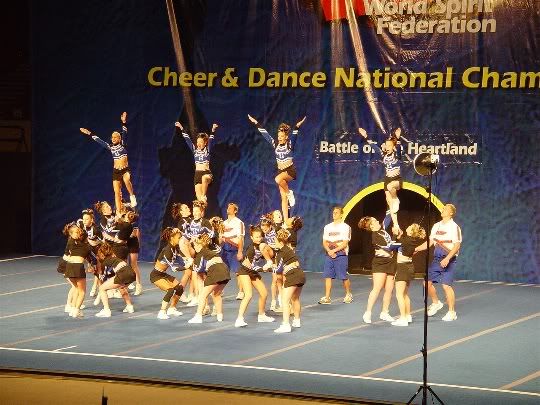 Sr Novice stunts.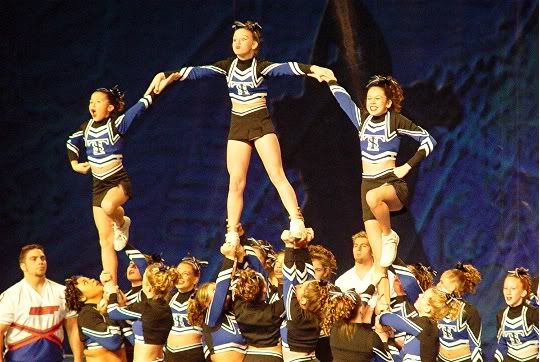 Sr Novice Pryamid.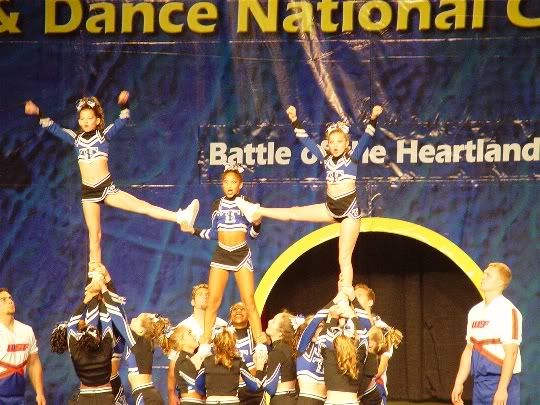 Norman Sr Open A at WSF. ((This was my team too))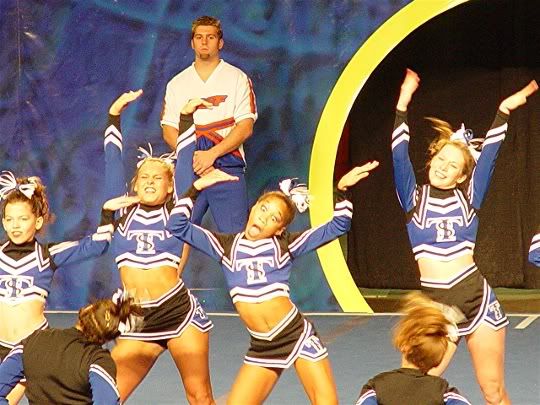 Norman Sr's dance.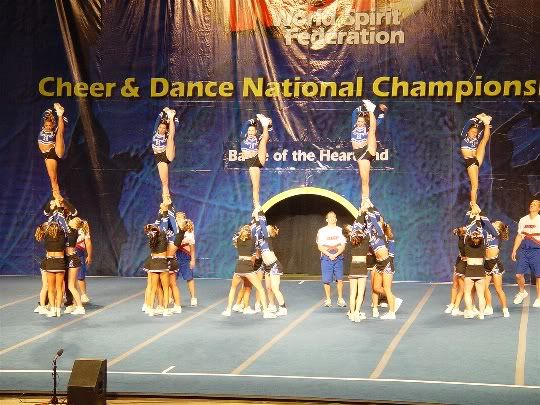 Sr Coed Stunts at WSF.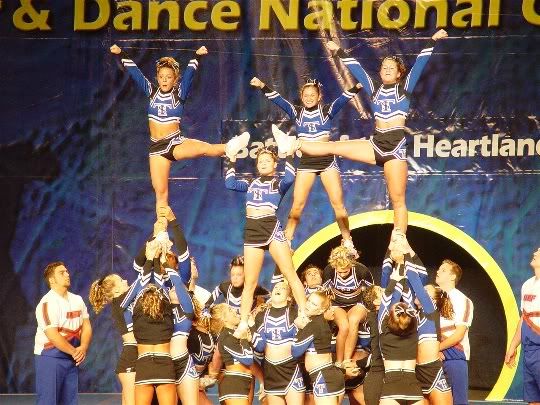 Sr Coed Pryamid.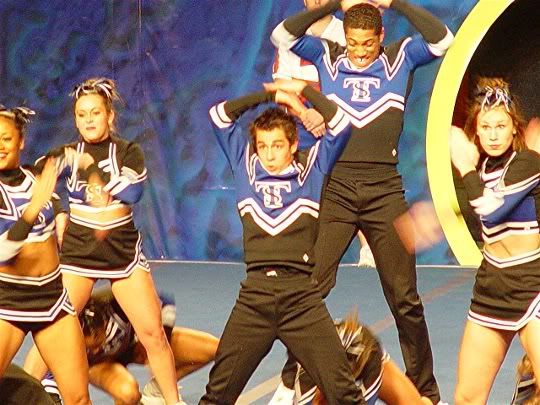 Sr Coed Dance.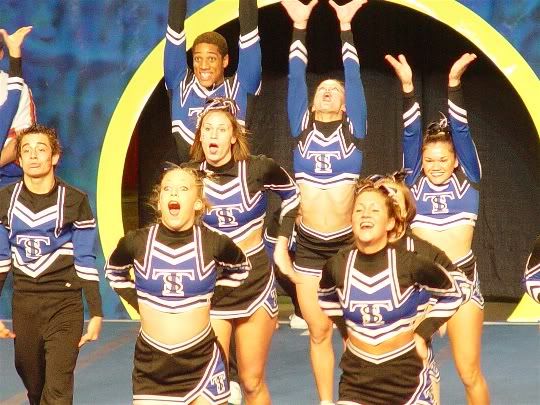 Here's another pic of their dance! Ha look at Tye!!! ((The guy in the left side of the pic. Not the tall one though)) Dude he's like the best cheerleader! LoL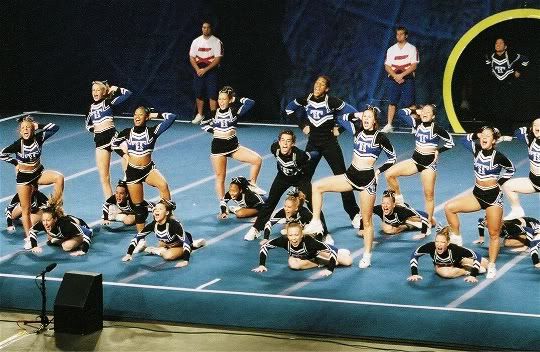 Here's the end of Sr Coed's routine.

Well that's all the pics from last year at Twist and Shout!!! Hope you like them!!!!

Go to www.shouterspirit.com for more info on Twist and Shout.